Baron's Quality Assurance
Since Our inception in 1986, Baron has striven to meet and exceed industry requirements as a supplier of spares to our customers.
While complying with various airline audits and requirements over the years, in 1997, Baron was one of the first companies to join the Aviation Suppliers Association. Our existing quality control manual and procedures were found to meet the requirements of FAA AC-0056A and to this day we have been reaccredited to remain in compliance and exceed standards so necessary to the provision of professional spares support. Being an FAA AC-0056A accredited company means being dedicated to providing quality products and service that follows company policies and processes in every aspect of its operations. Baron aims to meet and exceed customer expectations through continuous quality improvement all while placing accountability above all else, the most important thing, especially for an industry for which safety is crucial.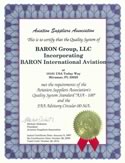 Click to Download a copy of our
ASA Certification for your files.