Baron Cares
Baron has adopted a 4 Bottlenose Dolphins and 4 California Sea Lions
In support of dolphin & sea lion research, Baron has adopted Delta, Diva and Aleta, a family of three bottlenose dolphins and three California Sea lions Lina, Kilo and Karen at the Dolphin Research Center (DRC), Grassy Key, Florida. As the "parent" of the adopted marine life, Baron provides them with a diet of restaurant quality fish, necessary medicine and vitamins and medical care. Our donation also provides medical equipment and supplies, and helps maintain the DRC family lagoons.
About Delta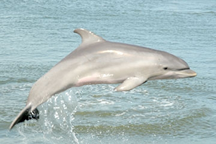 Delta, born on November 22, 2009 is the first baby born to Aleta and is 1/2 brother to Pandora, Gambit and Diva. A boisterous typical boy, Delta who's nickname is "Schmelta" loves swimming fast, jumping and playing with balls (especially tossing them over fences!) As a youngster, Delta has difficulty sometimes sitting through "kindergarten class." He enjoys swimming around the lagoon and seeing what everyone else is doing. He sometimes takes another young dolphin with him as he plays hooky!
View Delta's Adoption Certificate
Learn more about Delta
About Diva, Delta's sister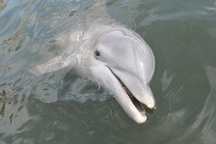 Diva was born on November 6, 2013 to proud mother, Aleta. (Her father is Gilly, a SeaWorld Orlando dolphin.) Arriving into the world in the early afternoon, Diva made quite the entrance, wowing all the staff and guests. Diva is an independent little girl who loves to have solo time. Diva is an independent little girl who loves to have solo time. She can often be seen alone in a lagoon or even swimming into another lagoon all by herself. She is very strong willed and shows that sometimes she would rather play than hang out with her mom. During sessions, Diva acts a lot like her brother, Delta, always wanting attention from her trainers.
View Diva's Adoption Certificate
Learn more about Diva
About Aleta, Delta's mom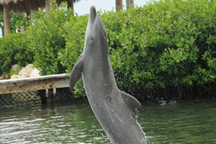 Aleta, born December 21, 1984, is a strong-willed lady who enjoys being the center of attention. Mother to two adorable children Delta and Diva, she still works hard to make sure all eyes are on her! She is a creative spirit and those who "do it her way" get screams of praise from her.
View Aleta's Adoption Certificate
Learn more about Aleta
About Windley, cousin of Diva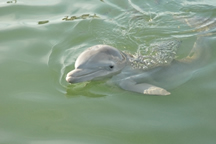 Since the day she was born on November 12, 2013, Windley has had an adventurous and friendly spirit. She is often seen playing either with her best friend and cousin, Diva, or on her own using toys in her lagoon. As the youngest daughter of Merina, it's no surprise that Windley is drop dead gorgeous. (Her father, a SeaWorld Orlando dolphin named Fathom is good looking, too!) She has already learned how to use that to her advantage! Just like her big sisters, Pandora, Calusa, and Cayo, and her older brother Flagler, Windley enjoys fun games and loving from her trainers. She's a big fan of back rubs, kisses, tongue tickles, and high fives.
View Windley's Adoption Certificate
Learn more about Windley
About Lina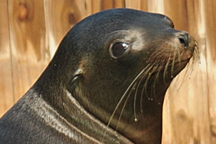 Lina, thin and begging from people, was rescued multiple times on the beaches of California. After four attempted releases, it was decided that she needed to be placed up for adoption and DRC became her forever home! Lina is a strong willed, bright little girl, full of personality! She is eager to learn, yet lacks patience, so her training sessions are often short and sweet. She is the smallest of the sea lions, but don't tell her that!
View Lina's Adoption Certificate
Learn more about Lina
About Kilo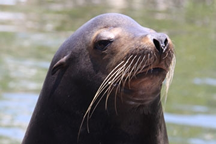 Kilo, born June 28th, 2001, is a handsome, intelligent sea lion and he loves to learn. In addition to standard behaviors, Kilo also understands concept behaviors and is accomplished at research tasks. He understands both verbal and hand cues, so he is both watching and listening to you! The largest of our sea lions, he enjoys cruising his lagoon, sunning himself and barking his admiration to his harem, Karen and Lina.
View Kilo's Adoption Certificate
Learn more about Kilo
About Karen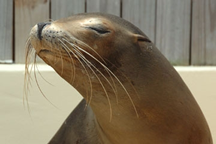 Born May 31st, 1987, Karen is a retired show-girl who performed at Universal Studios for many years. Karen is now in her "golden years" and is blind, which is not uncommon for older sea lions. She has adapted very well using her sense of hearing, smell and extremely sensitive whiskers to navigate and interact with her friends. She is a love and enjoys being kissed and hugged.
View Karen's Adoption Certificate
Learn more about Karen
About Diamond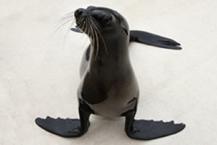 Diamond is the newest member of DRC's sea lion family. This little gem was born at Sea World Orlando. Diamond enjoys spending time with the rest of our sea lion family. She is particularly close with Lina and the two girls are often seen hanging out together. She enjoys playing with toys and regularly plays with them between sessions.
View Diamonds's Adoption Certificate
Learn more about Diamond